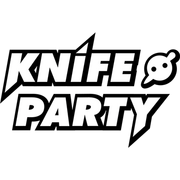 Knife Party is an Australian
dubstep
duo founded by 2 members of the electronic rock band Pendulum, Rob Swire and Gareth McGrillen.
Biography
Knife Party is a side project featuring the two founding members of Perth, Australia's long-running drum'n'bass act Pendulum. In late 2011, Gareth McGrillen and Rob Swire debuted their aggressive electro-house/dubstep guise with 100% No Modern Talking, released digitally through the EarStorm label and provided as a free download on the duo's website. They also matched up with Swedish House Mafia for the Virgin-issued "Antidote," billed as Swedish House Mafia vs. Knife Party. Remixes of tracks by Swedish House Mafia ("Save the World"), Porter Robinson ("Unison"), and Nero ("Crush on You") trickled out around the same time.
EP Releases
Knife Party released their debut EP on 12 December 2011 titled 100% No Modern Talking via their website and Facebook as well as Beatport and their official Soundcloud page. Their second EP Rage Valley was released digitally through EarStorm and Big Beat. It was made available for purchase on Beatport on 27 May 2012 and iTunes on June 3rd 2012. Their third EP was named Haunted House and was released on Beatport and iTunes on May 6, 2013. There has also been a collaboration made between both Knife Party and Swedish House Mafia called "Antidote" which has now hit over 8 million views on YouTube.
Albums:
Future Knife Party
On June 6, Knife Party released an update on their website about an upcoming almbum, called "Abandon Ship." It will have a total of 12 tracks, with 9 complete at the time of the update. It does not specify when the release date it is, instead saying "whenever we finish it."
Knife Party are preparing a new EP release for 2019. The first track from this EP was premiered on their "Knifecast" radio show, an ID currently titled "Lost Lands", which is a satirical take on Excision's festival of the same name and the modern dubstep industry. The intro that the group have been using for live shows "You're No Saint" is also being reworked into a full track for the EP release. "Nothing For Free" is speculated to be released on this EP, although it is unclear wether or not the "Lost Lands" ID will replace this track.
In November 2018, on Episode 8 of their podcast, they previewed a new song titled "Ghost Town", a 90's sounding progressive trance track.
In their final Knifecast of 2018 on 18 December they revealed that their fifth EP was close to completion and would be released "within the next 3 months". They also mentioned that Pendulum would become their main focus after its release but that Knife Party would return once they got bored of it again. It is speculated that their as-of-yet untitled fifth EP is set to include the tracks: You're No Saint, ID (Chickenstep), Lost Souls and Ghost Town, however speculation that the NYE Jungle Terror ID may also appear on the EP still remains.
The EP may be the last Knife Party release in a while, as Rob and Gareth both want to work with Pendulum as a focus, however, might come back to the Knife Party project if they get bored with Pendulum again.